Chripment Portal
We are designing a complete platform to serve users depends on their needs. Starting from simple (Wallet, Send/Receive), Debit Card to cash in/out, too complicated transactions in a very simple way of workflows. Later on, the portal will introduce API integration to use the service into systems like e-commerce or ERP to handle the payment processes.
Two accounts types available on Chripment Portal, Individual and Business. Each account designed from day one to help users on daily use, do the complicated processes in a smart and easy way.
Live screenshot of system, it's ready for testing
Wallet
It will provide an online portfolio for multi-currencies as well as real money. Through which the user or company can receive or transfer money/ crypto, share it with family members, accept payment to it (Merchants).  The wallets will be under user control, integrated with web/mobile platform for easy access.
Individual Account
Who can receive crypto or fiat (Real Money) from others, or receive fiat (Real Money) from his bank account or his credit card. Through his wallet on mobile phone he can use it to pay money online, send money to others or withdraw it directly from a Debit card.

Business Account
Companies can use their wallets to accept money from individuals or other companies as well as pay obligations, invoices, salaries and other payables. Applying approval workflows, or just share it with other co-founders.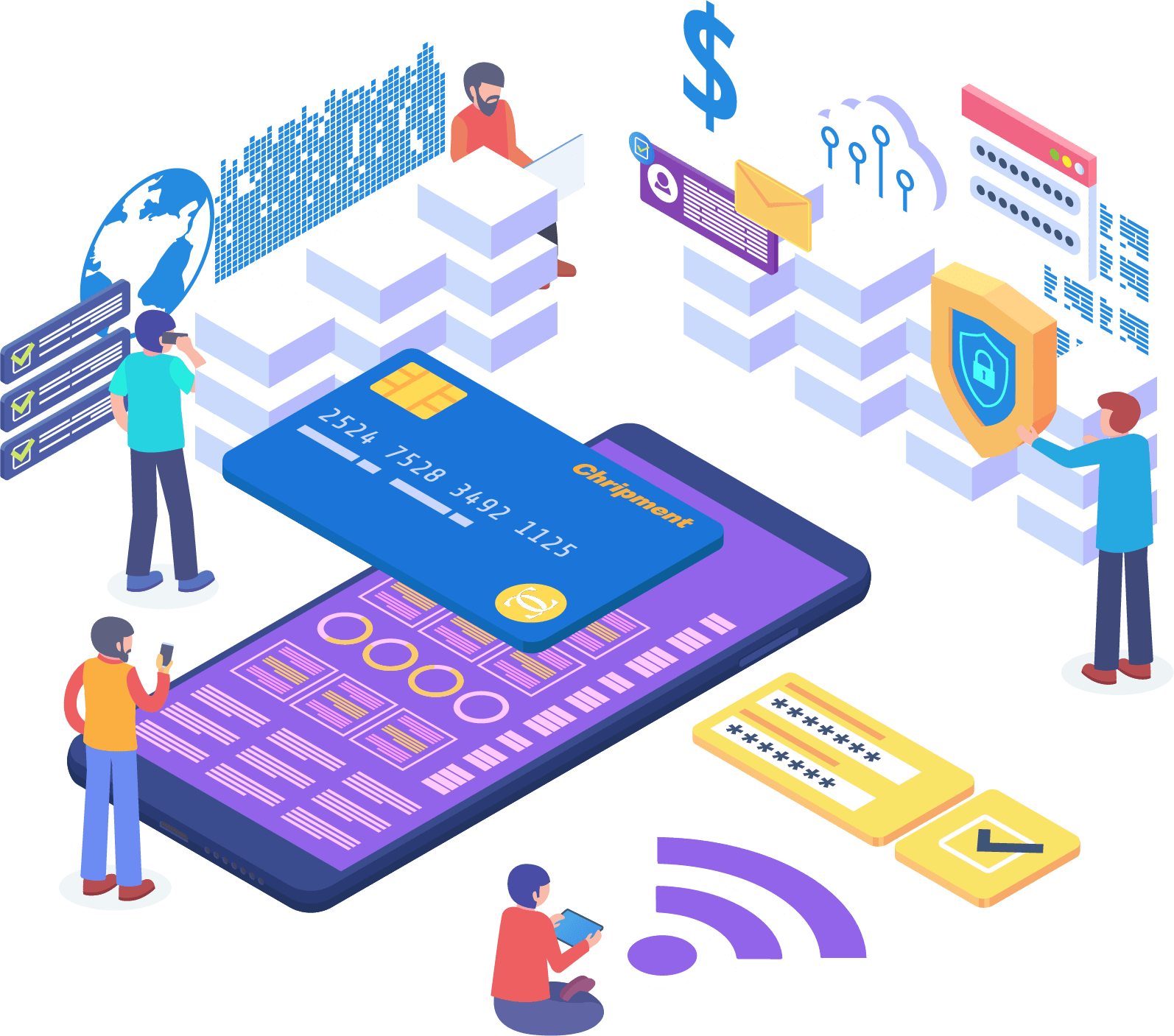 Card
Crypto Cards became one of styles solution on the market. Users will be able to use a debit card to cash out their money from any ATM machine all over the world. or use it as a Credit Card. this card will be directly linked to user wallet with immediate access to his wealth.

7,000 Cryptocurrency ATMs
In 75 Countries
+30 Crypto Debit Card
Available World Wide
Family Use
We introduce for the first time in crypto payment solutions ever a new way to manage a «Shared Family» wallet. Yes you can share your money «wallet/ multi wallets» with your family members with complete control of every transaction. It is the same way you use Google Family/Apple family to control your kids phones.
How Shared Family Wallet Works?
It is simple, you just create your account, then invite your spouse to join, and/or create kids accounts. Now you can share a wallet from your account with your family members, assign required approval for any transaction.
Let›s say you are in a trip with your family, and your trip budget is 2000$. Ok, Share a wallet with that budget with your family, and every transaction (Grocery, restaurant, renting a bike,) will required your approval. Also creating a shared wallet with limit, any extra fund will require your approval.
Add your spouse as an adult approval is available. Transaction details will help you protect your kids from spending money on unnecessary or unhealthy transactions. It›s the same way you control your kids apps on their phones by using Google Family.
Business Use
We work on business transactions from day one to introduce the first solution which give you on-chain approvals. Other apps still lagging in this field by giving users a level of access or level of edit the transactions, but with Chripment brilliant features we implemented many business scenarios to help companies to apply on-chain approvals like salaries, budgets control, advertising payouts, or even invite trusted 3rd party to grantee the payment process.
It is unlimited tailored process that match most startups and SMEs needs.
How it Works?
The company owner/CEO creates a wallet and set a co-signer/s to the wallet transactions. For example if Startup CEO want to set a salary workflow for his remotely developers, he will create a wallet called «Salaries», then assign his CFO and HR Manager to approve the process. Then he will set every employee salary, send the transaction to cosigners «CFO & HR Manager» to approve the process on-chain.
On-chain approval means no conflict, no missed data, everything registered on blockchain.
The same procedures could be applied to pay bills, ads campaigns and any other payables.
The system also support attaching files like contracts, invoices, agreements.
Do You Want to Give it a Try?
Join Now, and you will earn money in CRIP Token while you are testing